Practical yet elegant, leather has been used to make quality garments, footwear, bags, and accessories for thousands of years. Renowned for its durability, leather ages gracefully, resisting tears, enduring extreme temperatures, and contouring beautifully with wear.
With the proper care, a quality leather garment or accessory can last a lifetime. Follow the simple cleaning and care rules detailed below to enjoy years of comfort and style.
Leather Care Instructions for:

leather-care products that contain petroleum, mineral oils, waxes, or silicones


breathable cloth bags—never in plastic, PEVA, or vinyl


from high heat sources, such
as blow dryers and radiators


always go to a cleaner that specializes in leather

Questions? Please don't hesitate to contact us, no matter where you purchased your leather product. We're open and happy to help 7 days a week via email, chat, or by calling (800) 683-7526.
Caring for Leather Jackets, Coats & Clothing

When treated with care, a high-quality leather garment will provide years of enjoyment. Here are a few tips to help you maximize the longevity of your leather outerwear.

HOW TO STORE A LEATHER JACKET

Store your leather jackets, coats, and clothing items in a moderate environment (i.e. not overly humid or dry), making sure to keep them out of direct sunlight. To preserve the shape of your leather garments, use padded or wood hangers when hanging, storing, or drying them, taking special care not to stretch the leather. Always store your garment in a breathable garment bag made of cotton or woven fabric. Plastic dry-cleaning bags and PEVA or vinyl bags do not allow air to circulate, and can dry out the leather's natural oils.
HOW TO DRY A LEATHER JACKET

If your leather garment gets wet, simply allow it to air-dry naturally, making sure to keep it away from any heat sources. Once it has fully dried, you can treat it with a special conditioner (see Leather Care FAQs below) to restore its luster and flexibility. Do not use products that contain petroleum or mineral oils, as they are very drying and can damage the leather over time. If the garment is made of suede, you may gently brush it with a terry cloth towel.
HOW TO CLEAN A LEATHER JACKET

For most cases, it's best to take your leather goods to a reputable professional who specializes in leather cleaning and care. A regular dry cleaner is not equipped to handle leather's specific needs and can dry out the natural oils that keep leather supple and healthy.

For general care and upkeep at home, here are a few helpful guidelines:

For leather, use a soft, clean cloth to brush off dry dirt or dust—or use a slightly damp towel if the dirt doesn't just brush right off

For suede, use a suede brush to gently clean your garment

If you plan to use a leather-cleaning product on minor stains or a conditioner to treat your leathers, make sure to test the product on an inconspicuous part of the garment first (see details on what products are safe to use in our Leather Care FAQs below)
To remove winter salt deposits, gently sponge your leather garment with a damp towel and let air-dry

In case of extreme soiling or stains, contact a leather specialty cleaner. We recommend Arrow Leathercare in Kansas City, MO, at (800) 542-7769.

Durable and stylish, Overland's high-quality leather purses, messenger bags, wallets, and other accessories will enable you to carry your essentials in style for many years if you take proper care of them. Here are a few ways you can get the most out of your leather bags.
HOW TO STORE A LEATHER BAG

Stuff the bag with crumpled tissue paper or bubble wrap—never newspaper, which will smear ink onto the lining fabric—to help retain its shape. Then place the bag inside its original dustbag and store in a cool, dry place.

If your leather handbag or accessory didn't come with a dustbag, you can use a pillowcase or another breathable woven bag for storage. Avoid plastic bags and PEVA or vinyl bags, as they do not allow air to circulate and will dry out the leather's natural oils.

HOW TO CLEAN A LEATHER BAG

*Please note: Each manufacturer will have different care suggestions for cleaning and moisturizing products depending on the type of bag, material, and color. For specific recommendations on leather-cleaning products and moisturizers, please contact our friendly customer service team at (800) 683-7526.
Remove dirt build-up by wiping down your bag with a cleaner made specifically for the item, making sure to avoid getting any cleaning product on the bag's hardware, such as metal-plated buckles or chains.
Every other day, give your bag a brisk sweep with a soft, dry cloth—this won't take more than a few seconds, but will go miles towards preserving the appearance of your leather.
Try to keep light-colored leather bags and accessories from rubbing against your jeans, as denim can transfer color onto leather.
HOW TO DRY & CONDITION A LEATHER BAG

Leather is permeable and can never be entirely waterproof, so avoid toting your favorite bag in bad weather.
If water does spill onto your leather bag, dab the moist spot gently with a clean, soft towel and let it dry naturally. Make sure to keep it away from any direct heat sources, as high-heat measures like using a hairdryer will ruin the leather, causing it to crinkle and dry.
To prevent wrinkling, condition your leather bag or accessory every few months with a special moisturizing leather conditioner or mink oil to keep it looking its best. First, test any oils or conditioners on a small, inconspicuous spot to make sure the color of your bag doesn't change. Then simply dab a dollop on a soft cloth and rub gently all over the bag. Leave on for 10 minutes, then wipe off the excess and allow to dry thoroughly in an airy room.
Caring for Leather Boots & Shoes

Whether rugged and reminiscent of the American west or sleek and sophisticated, Overland's high-quality leather boots and shoes can last for many years with proper care. Here are a few tips on how to best take care of your leather footwear.
HOW TO STORE LEATHER BOOTS & SHOES

To help retain the shape of your leather footwear, insert a pair of shoe trees or stuff the interior with tissues. Store shoes in their original shoeboxes if space permits, and store boots upright on a boot stand.
HOW TO CLEAN LEATHER BOOTS & SHOES

Use a soft brush to remove any caked-on mud and dirt from the boots. Move the brush over the boots in the direction of the leather grain until all the loose dirt has been removed, then wipe down with a soft, damp cloth.

If road salt gets on your leather footwear during winter, make sure to remove it promptly so it doesn't cause the leather to crack. To remove salt deposits, gently sponge your leather boots or shoes with a damp towel and let air-dry.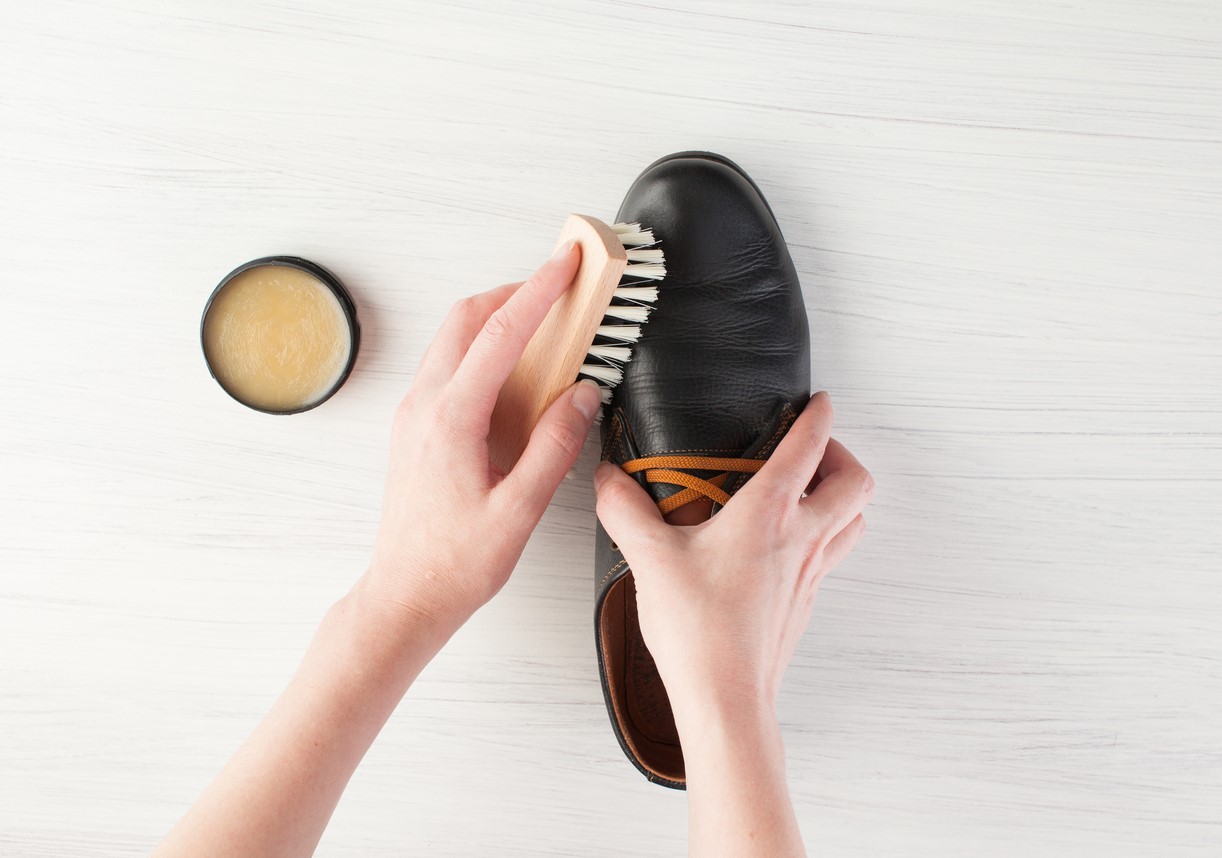 HOW TO DRY & CONDITION LEATHER BOOTS & SHOES

Whether you've just finished cleaning your boots or you happened to get caught in the rain, make sure to dry your leather boots thoroughly. Pat them down with an old towel if they are dripping wet, then allow to air-dry away from any direct heat sources, such as a fire or radiator. Heat causes excessive dryness, which leads to cracking.
If the leather on your footwear appears faded, dry, and worn, consider moisturizing them with a leather conditioner. If you choose to apply a conditioner, use one with natural oils such as mink oil. Test for colorfastness by applying it to a small, inconspicuous section of the boots to make sure the oil doesn't change the color of the leather. The section you applied the mink oil to should be shiny, but not wet. If the color looks good, rub the mink oil into the leather as deeply as possible and allow it to soak in before wiping away the excess. Repeat this, one section of the boot at a time, until the entire surface is covered.

Should I use conditioning products on my leather jackets, shoes, or accessories?
Quality leather conditioners contain fats and/or oils that help to moisturize the leather, keeping it supple, replenished, and lustrous. Do not use products that contain petroleum or mineral oils, as they are very drying and can damage the leather over time. Look for products that contain quality natural oils, like mink oil. But don't overdo it—leather conditioners are meant for occasional use.
Do I need to polish my leather items?
Polishing should be reserved for special occasions, when you want a more glossy finish on your leather. When selecting a polish, be aware that some products contain dyes that will brush off on things you come in contact with, and some have a tendency to clog the leather's pores or dry it out. Be sure to test out the product on a small, hidden area first. When ready, buff to a shine.
What products could be harmful to leather jackets and accessories?
Never use store-bought creams or gels containing waxes or silicone; these ingredients will dry leather out and damage it over time. You should also avoid spraying perfumes and hair sprays on leather.
Can I iron a leather jacket?
Wrinkles in leather tend to "hang out" if you leave the garment on a quality, padded hanger. For more heavy-duty wrinkles, we strongly recommend that you take your leather garments to a professional leather cleaner. If you decide to try ironing at home, set your iron on the lowest setting (rayon), place a pressing cloth over the garment, and iron quickly to avoid overheating and shine.
How can I mend and repair minor tears to a leather jacket or accessory?
For best results, we recommend that you entrust leather repairs to a reputable leather-care professional.
STAY INFORMED OF OUR SPECIAL OFFERS